The RFWattmeter™ will operate from 100 kHz to 10 MHz up to 2,000 Watts full scale. The RFWattmeter™ comes in a small plastic enclosure with RF input and output connectors, a DC power connector, USB connector, and three analog output connectors for direct access to measurement signals.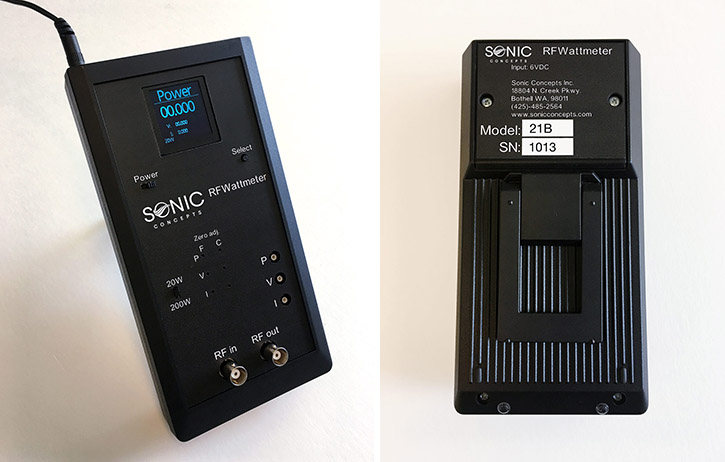 RFWattmeter Selection Matrix
Model
USB Interface
Power Scale
( Watts )
Resolution
( Watts )
Calibration Point
( Watts )
21B
0-200
0.025
20
22B
0-2,000
0.25
200
23B
✔
0-200
0.025
20
24B
✔
0-2,000
0.25
200
Universal Technical Specifications
Analog signal output: Average power, voltage and current
Screen output data: Average power (P), voltage (V), current (I), impedance magnitude (Z) and phase angle (A)
Sample rate: 8-64 Samples/second (up to 800 Samples/second with custom software)
Loss through meter: <0.01 dB at 50 Ω
Calibration point: 20 Watts into 50 Ω at 2.5 MHz on 200 W Range; 200 Watts into 50 Ω at 2.5 MHz on 2,000 W Range
RF connectors: BNC(f) Input and Output
Load impedance: 50 Ω (nom.), 10 – 250 Ω OK
Power supply: Wall Wart AC adapter, 100-240 VAC 50-60 Hz input, 6 VDC output (supplied with meter)
Frequency: 100 kHz to 10 MHz (other frequencies available upon request)
*Battery powered optional
Optional Advanced & Detailed Calibration
Calibration is performed using an absorptive power meter as a reference standard.  The provided test report will include plots of the RFWattmeter's frequency response and power linearity.
Reference meter
Agilent/HP EPM-441A RF Power Meter
Agilent/HP 8482H RF power sensor, calibrated 0.1 MHz – 4.2 GHz
Bird model 8322 RF attenuator 200 Watts continuous, 30 dB, 50 Ω